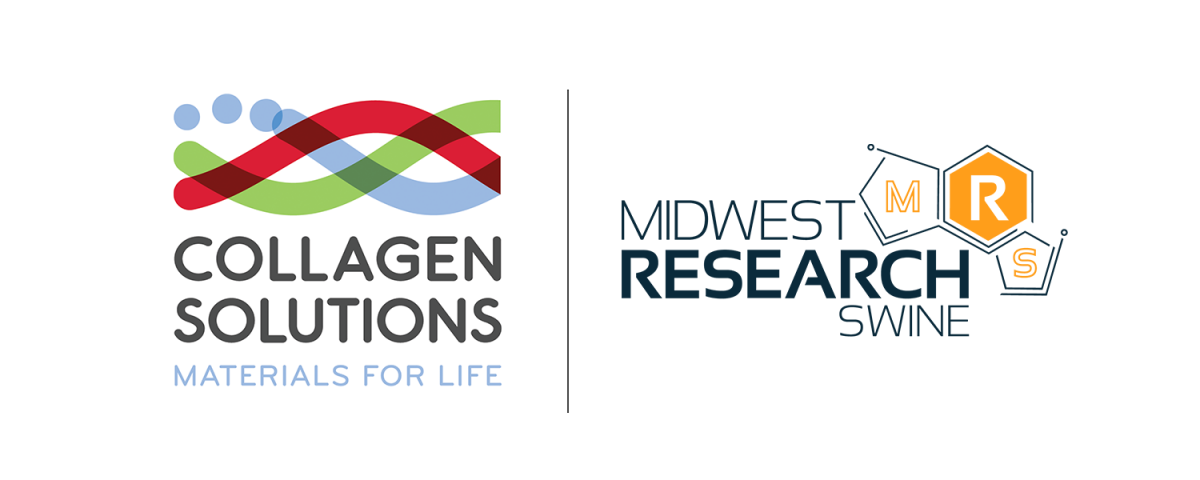 Midwest Research Swine, a leader in providing high-quality porcine tissue and live research swine to the biomedical industry, is now part of Collagen Solutions.
Now that Midwest Research Swine is part of Collagen Solutions, what happens?
For our customers, day-to-day business operations will remain the same. We will continue to offer the same high-quality products and exceptional customer service you have become accustomed to in the past. However, now with broader resources, we can handle your requests and opportunities even more quickly and efficiently.
You can continue to call us at 320-510-0449 or continue to send orders and/or inquiries to tissueorderdesk@midwestresearchswine.com.
Midwest Research Swine Products
Live Swine Sales

Midwest Research Swine provides live swine for your research purposes. Our animals come from closed herds that meet the most stringent of health requirements.

Porcine Tissue, Organs and Materials

Midwest Research Swine provides high quality porcine tissue and organs to all segments of the biomedical industry. This material is harvested from animals that are raised in tightly controlled conditions with complete traceability. We offer an integrated program, including an ISO-13485 certified Quality System, that provides medical device manufacturers, researchers and pharmaceutical companies with the highest quality porcine tissue, all collected per the client's specifications.

Pig Tissues and Organs Commonly Collected

Dermis, pericardium, peritoneum, urinary bladder, small intestine, hearts, livers, pancreas, lungs, spleen, eyes, ear, tongue, kidneys, head, internal organs, brain, spine and femur. Special orders for other tissues or further cleaning and processing are welcome.
Quality Control
Our commitment to quality starts at conception and includes all the feed our swine eat, the facilities they are housed in and the staff that cares for them throughout their lives. Further, we maintain all critical records that document the adherence to these guidelines. Our quality management system is certified to ISO 13485 (Quality System for Medical Devices) and ISO 22422-2 (Medical Devices utilizing animal tissues and their derivatives). Each herd is clinically-free and serologically negative to numerous porcine pathogens and have been validated free of (Bovine Spongiform Encephalopathies) while only entering a porcine abattoir.
Biosecurity

Maintaining healthy, disease-free animals is critical to our customers. Therefore, we follow practices which include a combination of physical and biological barriers that restrict any transmission of infectious diseases. We strive to maintain a high health herd while using minimal medication. This is achieved by protecting the pigs through a series of biosecurity measures, the collective impact of which is to reduce the prevalence of infectious diseases without compromising the animal's development.

Environment/ Risk Mitigation

Midwest Research Swine's animals are raised inside controlled facilities at multiple locations in Minnesota. The multiple locations are geographically separated, which provides disease management control and ensures that there are redundant resources should one location be compromised.

Genetics

Midwest Research swine's animals come from closed herds, providing maximum biosecurity protection, safety and security for our customers. The genetic makeup of the herd is controlled from conception. Exemplary breeding sows and boar semen are used to produce pigs that are genetically consistent and highly controlled for use in the biomedical industry.

Documentation/ Audits

Our farms are managed using a controlled documentation system. This system includes the complete traceability of the pig, feed, environmental conditions and critical data to meet the animal donor requirements. Our facilities and herds are audited regularly to provide a periodic report card of quality assurance and biosecurity. We provide open access to all quality information and documentation to keep good health in our herd. Client's audits and assessments are arranged and completed as necessary to provide critical feedback for their programs.

Herd Health

Midwest Research Swine animals are raised inside controlled facilities to reduce the prevalence of infectious diseases without compromising the animal's development. These types of measures are sought after by companies in the biomedical industry. Our Farm managers and veterinarians work closely together to monitor herd health. Verification of herd-health status is accomplished through an integrated program of testing.

Genetic Management

The pigs produced by Midwest Research Swine are a mix of American Yorkshire-Landrace-Duroc. This genetic hybrid results in consistent, high-quality animals that are well-suited for biomedical uses . MRS maintains herds of prolific crossbred American Yorkshire-Landrace females. These sows are bred using Duroc semen which results in the highly desirable 3-way cross breed.
Certifications:
Let Midwest Research Swine assist you with your next biomedical or research project. Call us at 320-510-0449 or email us at tissueorderdesk@midwestresearchswine.com